What's on your wish list from EdenFantasys? I love that EdenFantasys website allows you to create your own wish list. That allows you to save all your favorite items for future reference and even hint to the hubby! I'll tell you whats on mine...if you tell me what's on yours ;)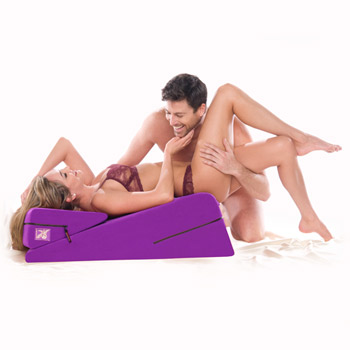 Ooo how fun does this look! No more twisting and straining, this wedge makes impossible positions...possible! It comes with a book full of new positions you thought you couldn't handle and not one but two zip covers-one microfiber colored and the other silky black! It zips closed for ease, is machine washable, and even has handles! This isn't on my wish list, it's on my "must-have" list!
Um can you think of anything that says "you've been naughty" better? Me either! This fabulous costume comes with 6 pieces: top, shorts, belt, glasses, baton, gloves! Time to tell your partner who's boss!
*Shunga massage candle
Imagine an elegant and sensual massage with this fabulous soy based candle. The gentle aroma will treat your senses to a delicious and alluring smell that will keep you wanting more! The great thing about this is that it has multi uses! Use it as a candle, warm massage therapy, or after bath oil for moisturizing skin! I love all of those!

Tweet