Each week, simply stop by at any of these FIVE blogs for a chance to link up and meet new and exciting bloggers!
All we ask is that you follow a few simple guidelines:
Add a main link to your blog each week (Linky will open every Monday night at 10 p.m. EST!)



Follow whichever blog you like; all we ask is that you leave a comment telling them that you found them from Follow Me, Chickadee!



You don't have to follow every blog that follows you...but make sure that you follow the blogs that really interest you!



If you want to put the blog hop code or the Chickadee button on your Tuesday post on your blog, we welcome it!
*~In The Spotlight This Week~*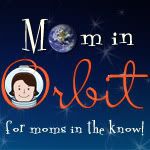 I work full-time as a communications specialist for a major US airline. And, while I love my day job, my true passion is my evenings and weekends with the family. I love playing with my little man, but I'm content just to watch him sleep, too.
I started blogging at
Our Someday Family
in 2009 as a way to document (and vent, cry, scream) about our journey through infertility. After being told we would not be able to conceive on our own, we were blessed to conceive Astroboy the month before we were set to begin our first IVF cycle. He is our little miracle!
Mom in Orbit represents my new home in the blogosphere...a place to chronicle the next phase of our journey through parenthood. And, a way to share what we've learned (and are learning) with all of you. But, it's also a place to share your trials, tribulations and successes, too. It's a conversation for moms in the know!
For the whole story on Mom in Orbit, head
here
.
Stop by and say HI to this Chickadee!
Interested in becoming a Spotlighted Blogger?




Contact one of us for details!
Tweet